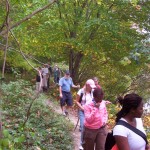 Lake Ridge residents will have another opportunity to express their support for trails in Lake Ridge in the upcoming months.  The Lake Ridge Parks and Recreation Association (LRPRA) board met on Monday, April 29, and passed a motion to discontinue discussion with the County on a trail agreement in which the PW County Parks & Rec Department would develop a walking trail on Lake Ridge association common area.  The agreement would have permitted public access to the trail, which was a concern to some of the board members.
Instead of working on a trail agreement with the County, the LRPRA board decided to establish a trail committee consisting of three board members, who will initiate an effort to assess member interest in developing trails within Lake Ridge, and determine where they should be located. Information will be distributed via the LRPRA newsletter and website.  The board also discussed holding townhall meetings and open forums to receive resident recommendations and comments on trails.
LRPRA members are encouraged to watch for information disseminated by LRPRA, and announcements of upcoming LRPRA trail committee meetings (which will be open to LRPRA members).  Let the LRPRA board know that you support trail improvements in Lake Ridge.  Trails are a desirable community amenity – they facilitate outdoor recreation, exercise and fitness, and enjoyment of the natural world around us.
Lake Ridge residents are also encouraged to attend the next Occoquan-Lake Ridge Civic Association meeting, to get more information about the recent LRPRA board decision and status of the trail planning effort.
Where: McCourt Center, Development Services Bldg, Room 202A
When: Wednesday, June 12th 2013
Time: 6:30 p.m. to 8:30 p.m.