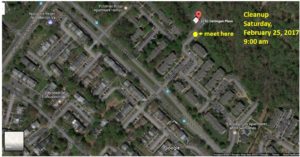 Meet on Saturday February 25th, at 9:00 am, for the cleanup in the wooded area along near Powell's Creek.  This is an area where storm water sweeps trash down from the developed area and deposits it in the woods, or carries it on to Powell's Creek.
We will gather at the Riverwoods at Woodbridge apartment complex which borders the wooded area.  The specific address is:
2750 DETTINGEN PL
Woodbridge, Virginia 22191
This cleanup is co-sponsored by the Prince William Soil and Water Conservation District, and PW County Public Works Department will haul away the trash gathered by the volunteers.
For additional information, contact Neil Nelson at secretary@pwtsc.org