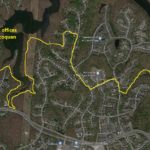 Start the new year with a hike on the Occoquan Greenway Trail.  We'll hike the planned trail route from the Lake Ridge Association offices to the Town of Occoquan, a distance of about 3.3 miles.  This section of the trail includes the open area along the Hooes Run section of the Occoquan Reservoir.
Meet at the parking lot of the Lake Ridge Parks & Recreation Association, 12350 Oakwood Drive, Lake Ridge, VA 22192.
Start time is 10:00 am, and the hike should take about two hours.
This is a one-way hike to the Town of Occoquan.  Please plan for your own transportation to return to the start point – with a partner, pre-position a car in Occoquan so it is available at the end of the hike, or have someone available to provide a ride.  PWTSC will have limited capability to provide transportation back to the start point.
Please click here to register.  For more information contact neil.nelson@pwtsc.org