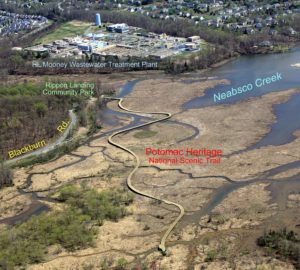 Join us as we continue work on the Potomac Heritage National Scenic Trail on July 21, 2018.  (Register here).  We'll be working on a variety of projects at Metz Wetlands, which will be the access point (south end) for the new boardwalk across Neabsco Creek.  Construction of the boardwalk started at Rippon Landing Park, is proceeding across Neabsco Creek, and is close to reaching Metz Wetlands.  The boardwalk, which is part of the Potomac Heritage Scenic Trail, will be completed later this year.  On July 21, we will be working with the PWC Parks Dept on trail improvements at Metz Wetlands, including:
• Construct new access trail from the gravel lot (Neabsco Eagles Park) into the Neabsco Creek Wetland Preserve Trail System
• Trimming / clearing trails in Metz
• Trash Cleanup
The meeting point for volunteers will be the parking lot in Neabso Eagles Park.
For more information contact secretary@pwtsc.org