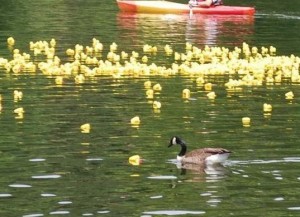 A few Saturdays ago, our lovable but notoriously uncooperative ducks landed in the Occoquan River once again.  If you were unable to attend the Duck Splash this year, check out this video that the LakeRidge-Occoquan Patch produced.
We would like to thank everyone for another successful Duck Splash this year.  The 2011 winners are:
1.  #631: Janet Gunn, Nokesville
2.  #1417: Diane Behm, Woodbridge
3.  #1418: Sara Reinhardt, Manassas
4.  #341: Lauryn (no last name)
5.  #468: Carol Stevens, Woodbridge
6.  #415: M. Bechtoldt, Woodbridge
7.  #1165: Whitney Bolton, Woodbridge
8.  #1461: Diane Cunha, Occoquan
9.  #1201: Jake Reifsnyder, Woodbridge
10. #1404: Paul Touchet, Lake Ridge
The Fifth Annual Occoquan River Duck Splash netted several thousand dollars that PWTSC will use to purchase tools and supplies for the many cleanups and trail workdays that we hold throughout the year.
We would like to thank all of the people who purchased tickets, came down to cheer the ducks on, or helped wrangle the ducks before, during and after the race.  Thanks also to the beautiful town of Occoquan for hosting the event and Occoquan Mayor Earnie Porta for all his hospitality.  See you next year!