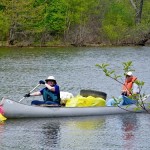 If you didn't get a chance to join the fun on Saturday, April 14, 2012, from 9am – 3pm, here is what you missed! Prince William Trails and Streams Coalition (PWTSC) successfully coordinated and conducted a multi-prong clean-up event from 12 different sites along more than 26 miles of the Occoquan River. The clean-up ranged from the river's confluence of Cedar Run/Broad Run, through Lake Jackson, from the base of Lake Jackson Dam to south of Lake Ridge Marina.  It also included the Lower Occoquan River shoreline from the Town of Occoquan to a point 4 miles down-river. The Friends of the Occoquan (FOTO) partnered with PWTSC at the Lake Ridge Marina and Occoquan Regional Park sites in addition to having 3 of their own sites (Bull Run Marina, Fountainhead Marina, and Town of Occoquan) along the river.
THANK YOU to everyone who volunteered!  There were 144 PWTSC volunteers (not including the numbers from FOTO) that came out to help clean up over 7000 pounds of trash (3.5 tons) on or near the water, or assisted in moving the debris on shore to waiting trucks or dumpsters. Approximately 70 watercraft (kayaks, canoes, rowboats, motorized jon boats, pontoon boats, a 22 foot motor boat and a 24 foot motor boat) put-in at various sites to collect debris along the shores of the river. This was a collaborative effort that included Prince William County (PWC) Park Authority, PWC  Public Works, the PW Soil and Water Conservation District, four Home Owners Associations; rescue boats from Lake Jackson VFD and the Lake Ridge OWL VFD,  REI, PW Izaak Walton League, Bradley Forest Recreation Association, Lake Jackson Citizens Association, PWC BOCS, and Northern VA Regional Park Authority, Occoquan Watertrail League, Neabsco Action Alliance ,and  Keep PW Beautiful.
The cleanup was registered as an Alice Ferguson Foundation (AFF) site as part of their 24th Annual Potomac River Watershed Clean-up. AFF provided gloves and trash bags for the cleanup. Liaison with the Northern Virginia Regional Park Authority was made to provide free launch passes to kayakers/canoeists entering from the Bull Run Marina or Fountainhead Marina.  Lake Ridge Marina and Occoquan Regional Park provided free rental of kayaks, canoes, and rowboats for volunteers helping with the cleanup.
The types of trash removed, included: 83 tires, mattress, wrecked sunfish sailboat, broken jon boat, 5 gallon bucket of tile adhesive, swimming pool, rolling suitcase, car fender, 7 car batteries, 2 oil drums, over 200 bags of trash and 35 bags of recyclables, chairs, balls, picnic table, a fishing rod, and more.
Stay tuned on this website for details about the next Occoquan River Cleanup (April 2013) – you don't want to miss out on this fun and worthwhile event!