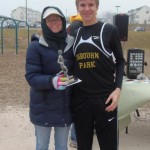 The sound of bells filled the air on Saturday morning as 149 runners took off on the 5-mile race with sets of bells laced to their shoes. The runners followed a course on both sides of Broad Run, completing a loop from the start/finish line at Victory Elementary School. Participants took advantage of a significant trail improvement this year, making use of one of the new fiberglass bridges installed at a stream crossing near Victory Lakes. The race was also an opportunity for runners to become familiar with trail sections they may not have experienced previously.
Race results are posted here.  A photo archive is linked here.  Congratulations to overall winner Matthew Thatcher with a time of 29:11, and honorable mention to Aiden Estrada (age 7) our youngest runner, and Jim Hollis our oldest runner (age 68).
The Broad Run Linear Trail is one of several trail projects being worked on by volunteers from Prince William Trails and Streams Coalition (PWTSC) with support from the Prince William County Parks Department. Currently the trail runs from the vicinity of Victory Lakes Elementary along the Broad Run up to the Kingsbrooke sub-division. The trail will eventually run from behind the Target on Route 28 to Glenkirk Road near Lake Manassas which is approximately 7.5 miles.