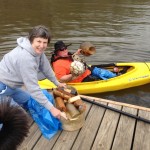 The Prince William Trails and Streams Coalition successfully coordinated and conducted a multi-prong clean-up event from 9 different sites along more than 24 miles of the Occoquan River. The clean-up ranged from the River's confluence of Cedar Run/Broad Run, through Lake Jackson, from the base of Lake Jackson Dam south of Lake Ridge Marina.
Over 70 watercraft (mostly kayaks, canoes, some rowboats, motorized Jon Boats, Pontoon boats,  and a 22 foot motor boat) put-in at appropriate sites to collect debris from 9am to 3:00pm.  More than 140 volunteers contributed 553 hours of service in cleaning up debris on the water, land or assisted in moving the debris on shore to waiting trucks or dumpsters.
This was a collaborative effort that involved members of the Prince William Trails and Streams Coalition, Prince William County Parks and Recreation, Public Works, the Prince William Soil and Water Conservation District, the Occoquan Watertrail League (OWL), several bordering Homeowners Associations, Neabsco Action Alliance, Keep Prince William Beautiful, REI, Prince William Izaak Walton League, Bradley Forest Recreation Association, and the Lake Jackson Citizens Association.   The Lake Jackson VFD and Lake Ridge OWL VFD provided on-water emergency support.
Coordination was made with the Alice Ferguson Foundation for plastic bags and gloves who sponsored the Chesapeake Water Shed Clean-up effort.   Lake Ridge Marina provided free rental of Canoes and Rowboats.   Portions of this event was funded by a grant from Fairfax Water.
The following is a summary of different debris items removed from the Occoquan River, including litter collected below the Lake Jackson Dam site, and that taken out at Riverview Estates HOA, Occoquan Forest HOA, Canon Bluff HOA, Lake Ridge Marina and Hooes Run.
– 169 bags of trash
– 22 Tires
– 1 wheel barrow
– 1 broken canoe and Jon boat
– Part of a wooden dock
– 3 50 gal plastic barrels
– 2 steel 50 gal drums
– 1 large Highway guard rail section
– 4 large blocks of Styrofoam
– 1 wooden park bench
– 5 5-gallon buckets
– 5 plastic chairs
– 1 large roadway cone
– 1 manhole cover
– Hub cap and car parts
– 2 children swimming pools
– Large fishing net
– Misc. wood
– Very few plastic bags (but many plastic bottles!)
Photo gallery from the cleanup sites:
Riverview Estates HOA:
Hooes Run / LRPRA: